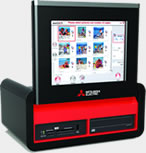 DPS Express Lab
Mitsubishi's DPS Express Lab represents a truly affordable entry into the highly profitable digital photo printing market segment.
Whether in a retail installation or on-site event/sports marketing, the value priced DPS Express Lab is unmatched as a revenue generating resource.

DPS CLICK 5000
The DPS Click 5000 from Mitsubishi Photo Imaging is the next step in advanced digital printing. The system is a fully integrated, digital photofinishing system that provides immediate profit potential to any retail storefront or on-site event printing.

DPS KIOSK 7000
If you are looking to offer easy and convenient instant digital photo processing to your customers, Mitsubishi's DPS Kiosk 7000 is the ideal solution. Plus, Mitsubishi's DPS Kiosk 7000 will provide you with immediate profit potential.With a large, user-friendly touchscreen menu, your customers will be able to use the DPS Kiosk 7000 with ease. Exceptionally compact, the system can be accessed on a countertop or mounted on an optional pedestal base.